The Powerful Question Types of SMP
SMP Online Survey Software was designed from the outset with the aim of developing new and powerful ways to capture research data online.  In fact the system was born out of frustration with the lack of creativity or the exhorbitant charges for doing something creative.
Many surveys today still fail to harness the power of the computer to collect data creatively and simply duplicate paper on the screen.
In saying that we do not create new question types which are just flashy re-productions of curent question types but they must be innovative and have a solid basis in market research practice.
The questions on display hear are powerful, easy to create and most importantly affordable.
Learn more by playing the video, looking at the stills below or taking the demonstration survey from this page.
Some of our current advanced question types available in the Pro version.
The Visual Scale Board – collects ordinal data and also the distance between various attributes quickly, accurately and enjoyably.  Returns the value of each items position on the scale.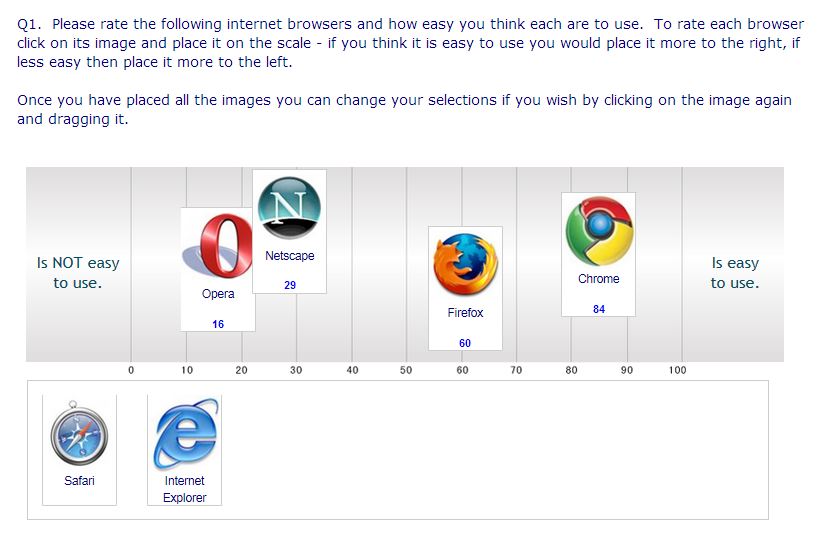 Card Sort – enables the respondent to rate each variable on the scale by dragging them to the relevant box.
RateMent – enables the respondent to select the appropriate statement to describe each of the stimuli, in this case browsers.  Once a selection is made the question automatically rolls to the next stimuli untill all have been answered.
Tachistiscope – a game that requires respondents to find a target variable – in this case the Chrome logo – as quickly as possible by clicking on it in the grid of nine logos.  Once they have clicked on an image the images re-arrange themselves randomly and the respondent must click on the same logo as quickly as possible.  Returns the time taken for each repitition.  The fastest average times indicate the most visually prominent logos or packaging options.